One lucky day, he came to know about Caritas' Integrated Pest management (IPM) and participated in the IPM training that was meant for the small holder farmers. The training seemed so impossible that he wanted to see for himself if IPM could do what the trainings really taught. He then cleared the land, and planted vegetable seeds as per IPM technique. To his surprise, the land unexpectedly bore healthy organic cauliflowers and cabbages with enormous leaves. Despite sufficient water and harsh climatic condition, the vegetables looked best. The vegetables were more than enough to consume at home and to sell in the market.
In one season, he earns around Rs.20,000-30,000/- which is like very good income for the family. He can  now easily  address family as well other needs such as livestock and agricultural input purchase for his farm. He says he does not need any financial support from his children. Instead he has been supporting his grandchildren's education too. His land been divided into small sections to grow different crops including tunnel farming (high value crop). During the farm visit, a badly damaged farm section was also observed. It was due to 17th April 2021 hailstorm. "Hailstorm and harsh cold climate often damages crops but we can do nothing about it as we have no control over nature", he complains. But despite challenges, he is strongly motivated to continue farming with hope for better tomorrow.
homestay picures 4 of 51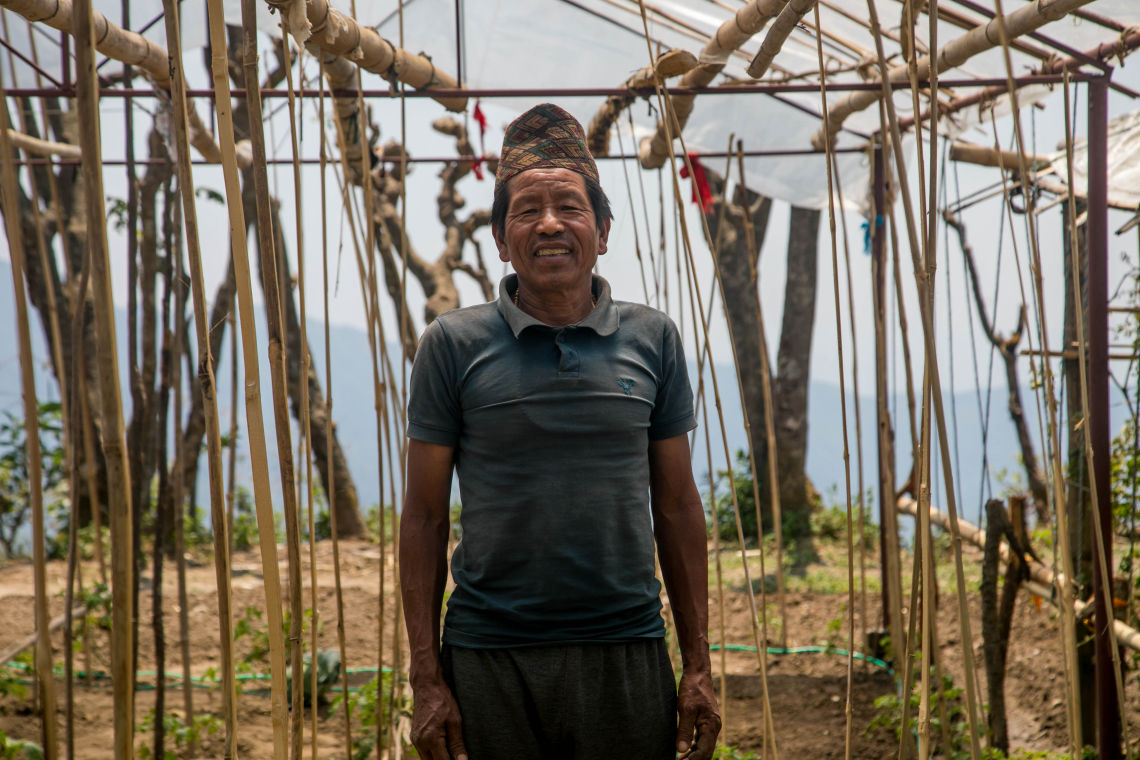 Mr. Sher Bahadur Dura posing for photo in his tunnel farm
As a member of Turlungkot Homestay, he has been providing fresh organic vegetables (farm products) to the homestay participants. For him, IPM and homestay project have played important roles in his life. These projects have impacted on income generation, and moreover the homestay project has benefitted economically disadvantaged people like him to preserve culture, and share exquisite food variety and traditions with guests/visitors from different parts of Nepal.
Community take him as a model tunnel farmer and a dedicated homestay participant. In both ways, being a farmer and homestay participant earned him well, and at the same time provided opportunity to feed homestay guests and community people with fresh organic food from his farm.